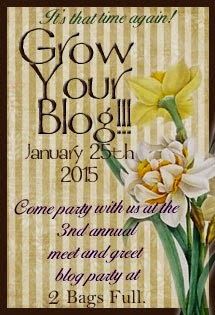 WELCOME to this year's Grow Your Blog Party!! Hosted by Vicki of 2 Bags Full, this is THE blogging party of the year!! Or at least mine:)
I have participated for the past 2 years, and it's always been a great way to grow my blog. I'm Shannon, formally of the blog
'Around the Homestead'
, and am now found here at 'With Work in Hand'. I decided late last year that I wanted a change in my blog name to better reflect where I wanted to go with my crafting and blogging, so I made the switch at the beginning of this year:)
So what do I blog about here? Well, mostly about stitching, embroidery, crocheting and fairly recently about knitting as well. I like to learn new handwork and am super excited to get into knitting now. What's next? Who knows, maybe needle punch or latch hook?!?! I'm thinking that learning to knit, and all that goes with that, as well as the other forms of needle arts that I enjoy will probably keep me pretty busy for a while. Here is a recent picture of what I am currently knitting on...
Guernsey Wrap by Jared Flood
I also blog about my family and pets. I have been married for 17 years to my high-school sweetie. We met when I was 14, so we've been together for 23 years now!! We have one daughter who is 15 and is homeschooled. Her passion is animals, so 2 mornings a week she volunteers at our local zoo. Our zoo is super small and they depend on their volunteers to really help them out. She is able to go into most of the animal pens and do a good deal of the same work that the zookeepers do. It's been a good experience for her to see if this is what she really wants to do for life (especially when its 15 degrees out:)!!
I do a bit of volunteering too with our 4-H club as I am their community leader. In fact, before writing this post we had our annual 4-H Carnival and Family Fun Night. It's a lot of fun, and a lot of work:) Our club needed to put together a gift basket to auction off and the kids voted on a garden theme. Here is the 'basket' that we took tonight...
Please ignore the handprint artwork on the frig in the background:) It was a gift from my niece's family.
We are all exhausted and there were candy wrappers EVERYWHERE, so all-in-all I think it was a success:)
Since this is a PARTY!! I have a give-away for one lucky winner. I had all intentions of actually having the gift completely made so I could fully show it off, but I came down with a cold/upper respiratory something-or-rather last week and I haven't been able to completely shake it. SO it's not done yet, but I do have a sneak-peek...
One dishrag ready to bind off and another ready to cast on.
These are cotton dishrags in a yarn that is a bit rougher than the ones I use for my face. They will probably be best for actually washing dishes with or other cleaning, but they may soften up after a few washing and be good for the shower as well. Leave a comment and a way to get ahold of you (if you are a no-reply person:), and I will post the winner on Feb 15th!!
I hope you are all having great fun at the Grow Your Blog Party!! I can't wait to visit you as well:)