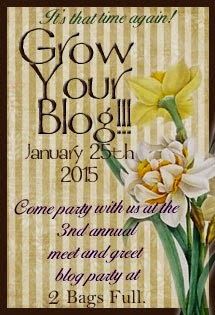 For the last two years, I've participated in
Vicki's of 2 Bags Full
'Grow Your Blog Party'. It is wonderful fun to visit lots and lots of other blogs and help grow other blogs as well as getting bunches of comments on your own blog - plus a few new followers!! Many of the bloggers have give-aways to put in for as well - and who doesn't love to win goodies? BTW - I'm working on a give-away myself, so come back and visit for the party!!
This year Vicki has added a small description of each bloggers craft of choice. So if you would only like to visit blogs that have to do with cross stitch or knitting, that will be labeled for you.
If you'd like to join up you still can. January 17th is the deadline to have your blog entered into this party that starts on January 25th.
Hope to 'see' you there!!